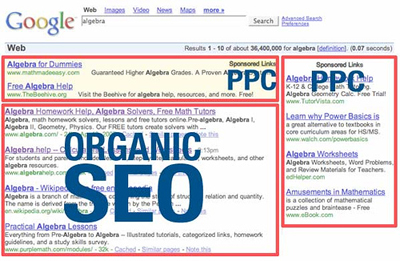 Our dedicated and experienced internet marketing professionals combine the latest technology with expertise to drive targeted visitors to your website yielding high returns on your advertising investment.

Pay-Per-Click advertising is an online marketing strategy employed to get a web site ad listed alongside the first page of search engine results for selected keywords. Monetary bids are placed on relevant keywords, and corresponding website ads appear in the sponsored listings when a user searches on that particular term. The advertiser is charged by the search engine each time a viewer clicks on the ad.
What 24x7design4u.com Provides ?
PPC Consultation - We will speak with you directly to determine the nature of your web site, your goals for your PPC campaign, the process involved in implementing the campaign, and the timeline. We answer any questions you may have and establish the plan for moving forward.
Website Analysis - If you already have a live site, we will analyze it to determine its strengths and weakness, and suggest areas to focus on and areas for improvement. If your site is in development, our experts can offer guidance related to landing page and conversion optimization.
Keyword Research - Choosing the right keywords for your campaign is crucial. Our professional staff performs market research focused on search volume, competition, and relevance to determine the optimum keywords for a successful PPC marketing campaign.
Ad Creation - We write unique and enticing ads to draw searchers away from organic results and drive qualified traffic to your site. To keep content fresh to avoid "user-fatigue", we write several variations and use multiple approaches when creating ads. This also allows us to continually test performance and expand your campaign on a regular basis.
Landing Page Identification - Once a user clicks on your ad, they spend an average of three seconds deciding if they want to proceed or go somewhere else. We identify the best possible landing pages for each keyword and direct traffic to those pages; maximizing the effectiveness of your campaign and increasing conversions.
Campaign Implementation - Our ShopperClicks experts will submit all the ads, keyword bids, and tracking mechanisms necessary to get your PPC campaign up and running. We will also set campaign goals, establish the budget and secure numerous other settings, including geo-targeting, ad placement, day parting, and more.
Campaign Monitoring & Performance Tracking - Constant monitoring of your campaign, by both the latest software and trained certified PPC Specialists, insures proper bid management and position maintenance. We track the performance of your campaign and use the data to make on-the-fly bidding adjustments several times a day to get the most out of your budget.
Campaign Testing & Management - Every campaign requires A/B testing to determine what achieves the best results, and management updates to implement the most effective strategies. We constantly receive performance data on each campaign, and use it to improve and grow results by adding to, removing, or making adjustments to ad copy, bid ranges, keyword lists, and landing targets.
Monthly Performance Reporting - Each month, our Shopper Clicks staff provides a personalized, comprehensive PPC Campaign Report breaking down in detail each keyword's spend, clicks, conversions, ROI and more.
How Much Does PPC cost ?
The cost for this service varies based on needs determined in the consultation. There is a one-time setup charge, then simply a monthly management fee. Terms of your 24x7design4u's agreement are month-to month, with the exception of special offers or discounts; and you may cancel anytime. Costs for the actual clicks that you get are billed directly by the search engines. You set the monthly budget, which the highest amount that you are willing to pay for clicks each month, and this amount can be adjusted by you as needed.